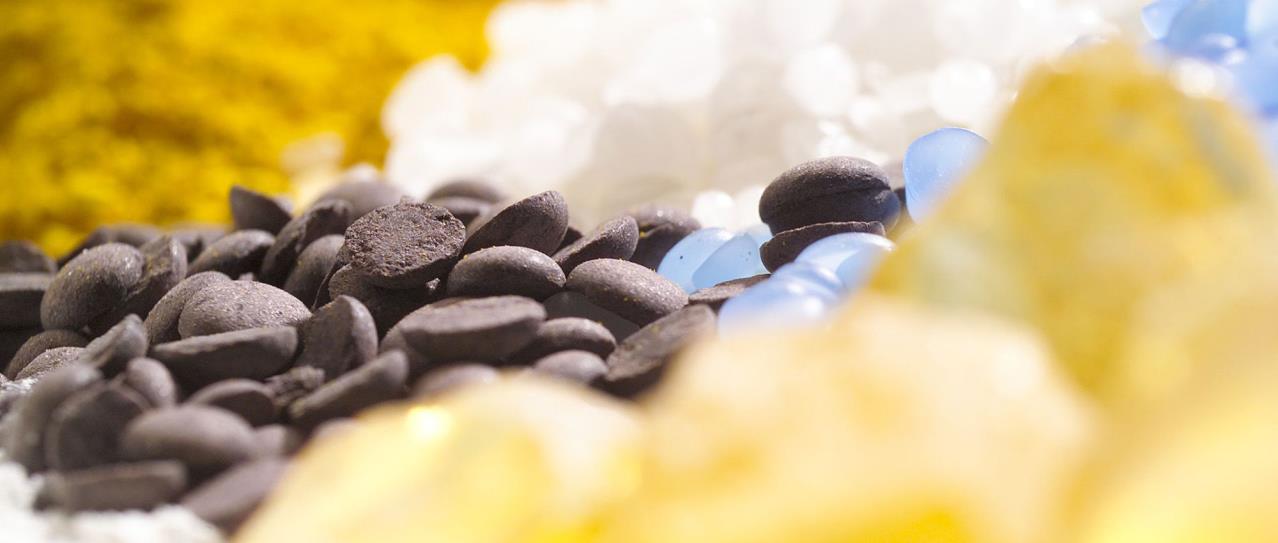 The Material: The Most Important Part of a Seal
Choose the Right Material Out of Numerous Compounds
Different applications and industries place specific demands on the seal and consequently also on the material. Thus, it is important to know which material is suitable for the application right from the selection of the seal. Whether high or low temperatures, strong or weak pressures, media to be sealed, cleaning agents - the demands on the materials are high and so is our ambition to work closely with you to find the best sealing solution for your application. Read here about the various properties and applications of the individual sealing materials in industrial-standard quality. Our experts will be happy to help you find the right seal in the right material for your application.
Would you like to find out whether the materials you have selected are suitable for the (process) media prevailing at your site? Find out easily - with the Resistance Tools from Freudenberg Sealing Technologies.
EPDM (Ethylene Propylene Diene (Monomer) Rubber)
Good Resistance to Ozone and Weather
EPDM is resistant to hot water, steam and cleaning agents and glycol-based brake fluids (for which we recommend special quality).
Peroxide-crosslinked materials are used in the food industry, in contact with drinking water and in the sanitary sector and also have the respective approvals and certificates. Compared to sulfur-crosslinked compounds, these have a wider temperature range of application from -50 to +150°C and a significantly better compression set value.
Temperature range for peroxide crosslinked EPDM: approx. -50 °C to +150 °C
Temperature range for sulfur crosslinked EPDM: approx. -45 °C to +130 °C
EPDM is used in the Chemical Industry, Appliance Construction, Mechanical Engineering and the Food & Beverage Industry (CIP/SIP media, water).
EPDM's Characteristics at a Glance
Good resistance in: hot water, steam, water lye, oxidizing media, acids, bases, polar organic media, ketones, flame retardant hydraulic fluids of the group HFC and some types of the group HFD, brake fluids based on glycol
Not resistant in: all unipolar media (e.g. mineral oils and fats) and petrol and hydrocarbons
There is a basic absolute incompatibility with mineral oil products such as lubricants and fuels.
FFKM Perfluoro Rubber
Very High Media and Heat Resistance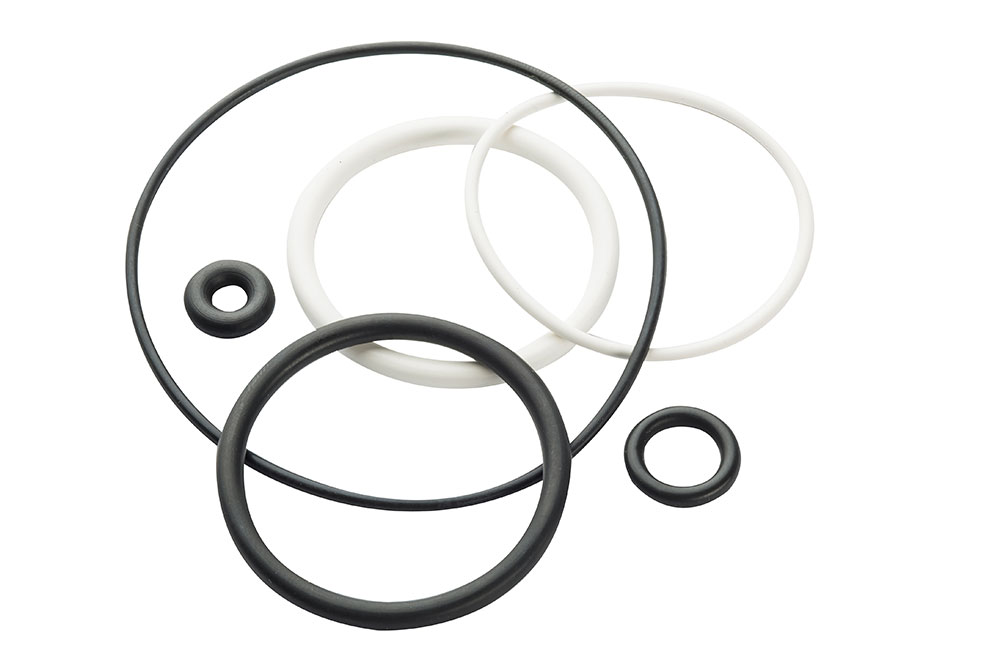 FFKM has very high chemical, weather and temperature resistance, similar to PTFE. It combines the resistance of PTFE with the elasticity of elastomers. The temperature application range spans from -20°C to +280°C – depending on the compound.
It is used in the chemical, petroleum and semiconductor industries as well as in high vacuum technology.
FFKM is a very high-priced material that requires separate material mixtures to meet different requirements. Freudenberg offers industry-standard FFKM materials under the Dichtomatik product brand.
FFKM's Characteristics at a Glance
The fields of application of FFKM are very diverse and range from water, steam, concentrated acids, amines, organic acids, ketones to lyes, organic solvents and aroma concentrates.
FFKM
is resistant in CIP/SIP processes up to +150°C (depending on the compound)
can be provided in compliance with FDA (CFR21 177.2600) (depending on the compound)
fulfils the requirements of EU (VO) 1935/2004 as well as EU (VO) 2023/2006 (depending on the compound) and
is USP Class VI compliant (depending on the compound).
The use of FFKM seals in compounds containing fluorine or elemental fluorine is not permitted.
FKM (Fluoro Rubber)
Good Media, Weather, Heat and Aging Resistance

Its very good resistance to aging and ozone as well as its very low gas permeability (good suitability for vacuum applications) and its high thermal resistance make FKM attractive for various applications in the general industry. FKM has a temperature application range from -25 °C to +200 °C. FKM is resistant to most special lubricants and chemicals which aren't suitable for other materials such as ACM, NBR and HNBR.
FKM is used wherever high demands are placed on chemical resistance high temperatures and high speeds occur, such as with radial shaft seals for pumps and gears as well as in various general industry applications.
FKM's Characteristics at a Glance
FKM is resistant to mineral and synthetic oils and fats as well as hydrochloric acid and sulfuric acid. Furthermore kerosene, natural gas, butane, petrol and propane.
FKM is not resistant to polar solvents, low-molecular organic acids, glycol-based brake fluid, ammonia gas, amines, alkalis, hot water and steam.
We offer FKM materials with
FDA conformity (CFR 21 Part 177.2600)
EU (VO) 1935/2004, EU (VO) 2023/2006, DIN EN 549 DVGW and LFGB (1935/2004 EG)
HNBR (Hydrogenated Acrylonitrile Butadiene Rubber)
Good Aging Behavior, Oil and Gasoline Resistance, Good Mechanical Properties With Low Abrasion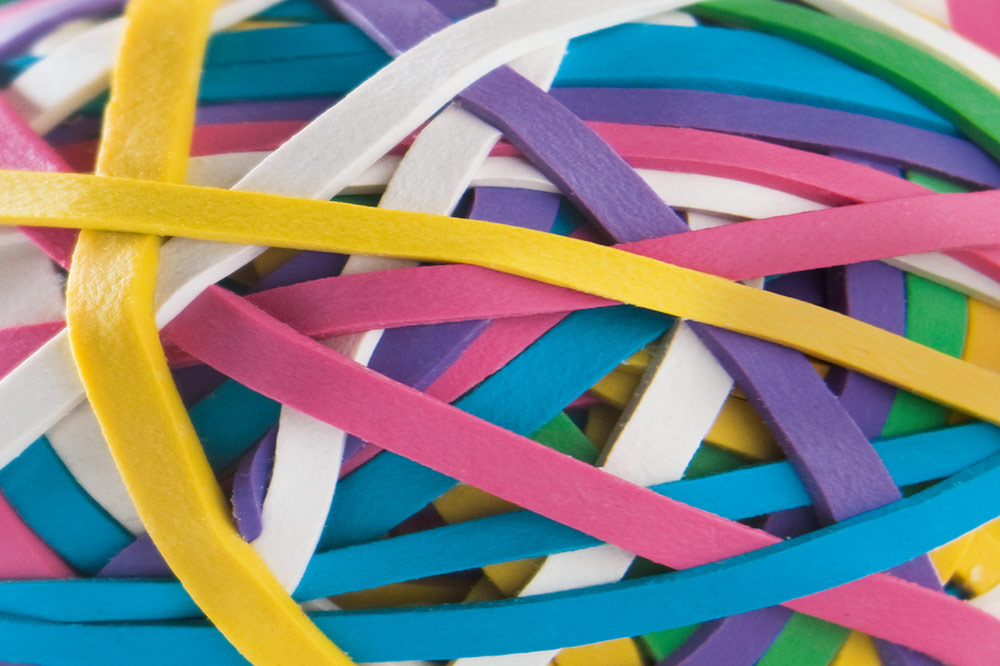 HNBR has similar media resistance to the material NBR. However, its higher chemical resistance, its resistance to oil and petrol and its harmless use in hot water. HNBR has better mechanical properties and increased abrasion resistance. The good ozone and UV also deserve mention. HNBR can be used at temperatures of between -30°C and +150°C.
HNBR is mainly used in mechanical and plant engineering, primarily as an O-ring or radial seal (e.g. in wind turbines).
* We also offer special compounds: HNBR compounds down to -50°C.
HNBR's Characteristics at a Glance
Good resistance to
butane, propane, mineral oils and petrol as well as light heating oil and diesel fuel
vegetable and animal oils and fats
lubricating oils and hydraulic oils of the groups H, H-L, H-LP and greases based on mineral oil
flame resistant pressure fluids of the groups HFA, HFB and HFC
CANNOT be used with brake fluids based on glycol ether, aromatic hydrocarbons and polar solvents.
NBR (Acrylonitrile Butadiene Rubber)
Good Oil and Grease Resistance as well as High Abrasion Resistance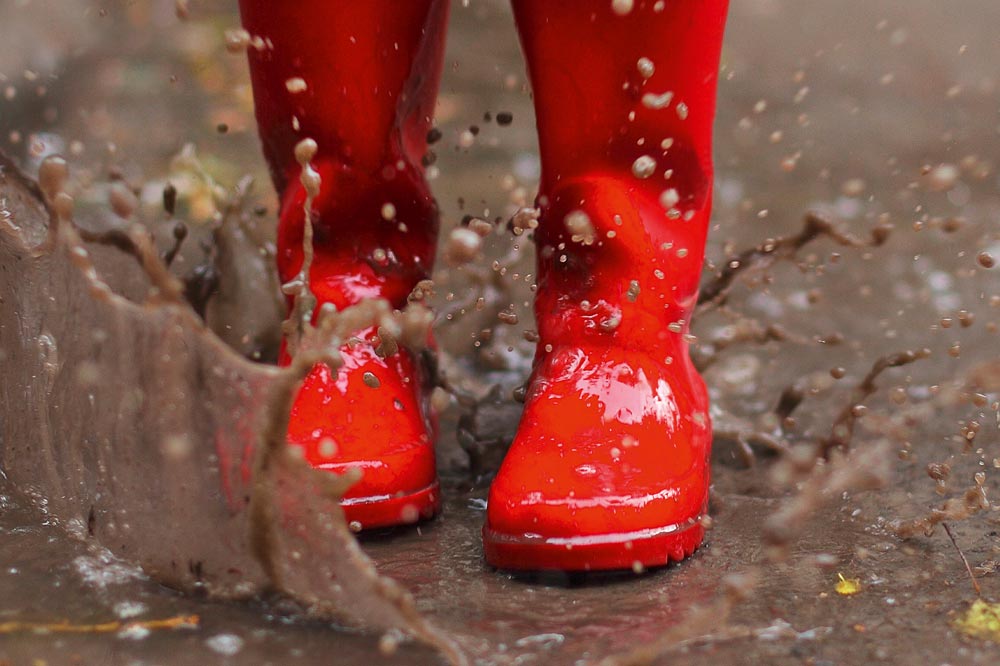 NBR is one of the most important sealing materials in the mechanical engineering sector and is used in both static and dynamic applications. NBR has good resistance to oils, greases, silicones, hydraulic fluids and aliphatic hydrocarbons. At room temperature, NBR also offers good resistance to diluted acids and alkalis. It has good abrasion resistance and offers high elasticity for use under high mechanical forces. The very good recovery behavior deserves special mention.
The standard temperature range spans from -30°C to +100°C and features low gas permeability.
NBR is used in general industry applications like gears, pumps and industrial machinery.
NBR's Characteristics at a Glance
Standard NBR is resistant to oils, greases, silicone, hydraulic fluids HFA, HFB and HFC as well as in aliphatic hydrocarbons (butane, methane, propane). At room temperature, NBR also offers good resistance to dilute acids and lyes.
NBR shows low resistance to weather, ozone and UV and is not resistant to glycol-based brake fluids, HFD hydraulic fluid, superheated steam as well as polar solvents.
POM (Polyoxymethylene or Polyacetal)
Pressure Stable and Low Friction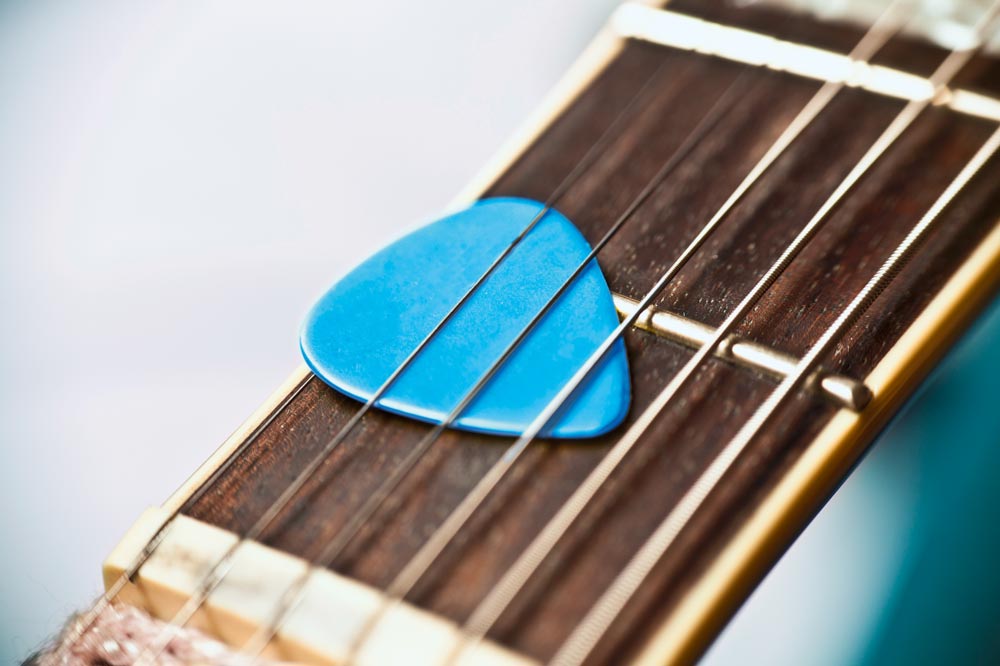 POM is a semi-crystalline thermoplastic and is one of the most mechanically resilient thermoplastics. POM is also characterized by high rigidity, a low coefficient of friction, excellent dimensional stability and very high water resistance.
In sealing technology, POM is used in conjunction with elastomer seals as a supporting element or support ring to prevent gap extrusion. A support and guide ring made of POM is often part of a multi-part compact seal. As a pure guide element, POM has been pushed into the background by PTFE and hard fabric, particularly in the MRO market.
POM's Characteristics at a Glance
The temperature range is between -50°C and +100°C.
POM is resistant to mineral oils, greases and hydraulic fluids (HFA, HFB and HFC).
Low water absorption
Not resistant to concentrated acids and alkalis
Not available as a single item from stock
PTFE (Polytetrafluoroethylene)
High Chemical Resistance, Very Low Sliding Friction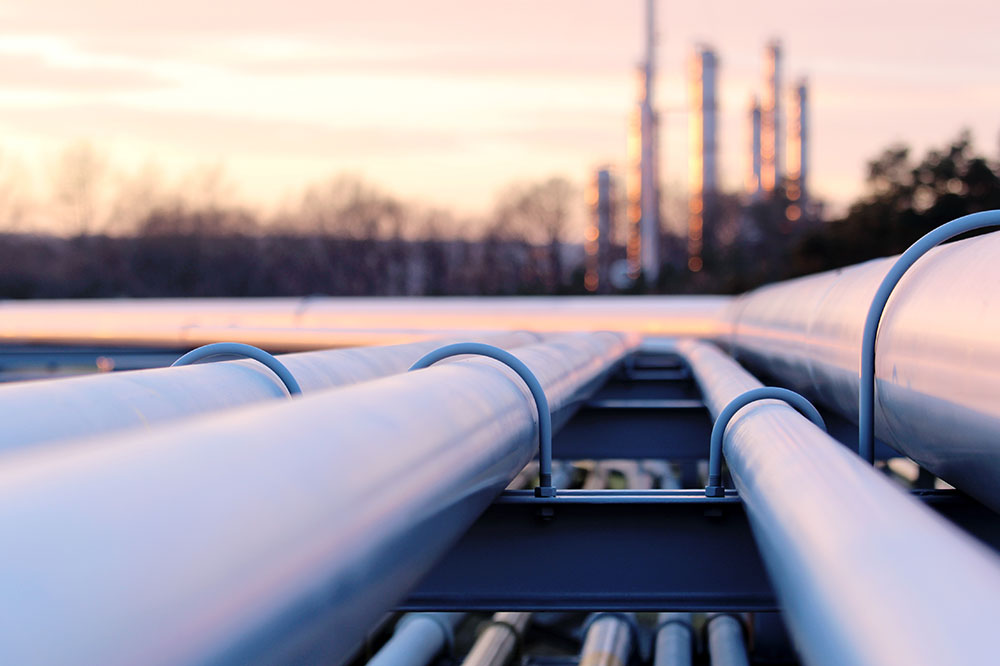 PTFE is a fluorinated plastic with virtually universal chemical resistance and a wide temperature range spanning from -200°C to +260°C. Its extremely low coefficient of friction gives it very good sliding properties and prevents the stick-slip effect of dynamic seals that is otherwise quite common. Its resistance to ozone, weathering and aging is nearly unlimited. Pure PTFE contains no extractable substances, making it physiologically safe and suited for use in the food and pharmaceutical industries.
PTFE is not very elastic and, as a dynamic seal, usually requires preloading elements (which limits the operating temperature) made of elastomers or technical springs. The tendency to cold flow, the low pressure resistance and abrasion resistance is counteracted by fillers such as graphite, bronze, glass, carbon fibers and others.
PTFE's Characteristics at a Glance
PTFE is resistant to
all acids, bases, alcohols, ketones, petrol, oil
all known hydraulic media, lubricants, chemicals and solvents
Please note: PTFE is attacked by elementary fluorine and liquid alkali metals at high temperatures and pressures.
TPU (Thermoplastic Polyurethane)
Very Good Abrasion and Wear Properties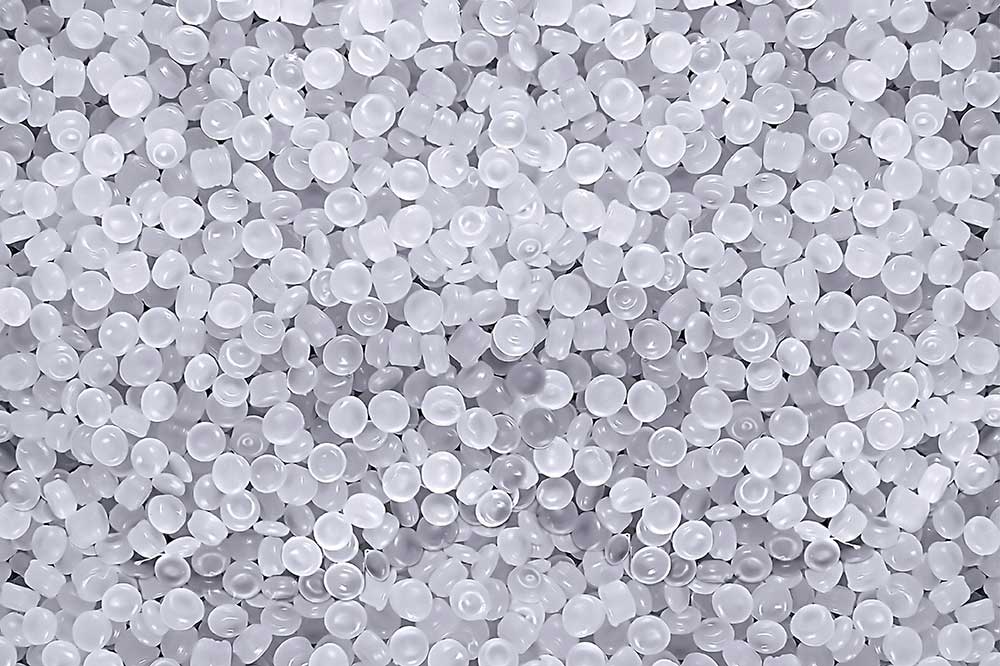 TPU materials stand out from classic elastomers due to their significantly higher mechanical strength. Other outstanding material properties include their high abrasion, wear and extrusion resistance, high compressive strength and high tear and tear propagation resistance. The TPU material shows good flexibility (even in the upper hardness range). The material also offers good resistance to aging and ozone. The temperature application range is from -30°C to +100°C; in combination with water, only up to a maximum of +60°C.
TPU has very good static and dynamic sealing properties, which is why it is mainly used as a seal in hydraulic applications as wipers, piston and rod seals in earthmoving equipment, industrial trucks, presses, mobile hydraulics and in general mechanical engineering.
TPU's Characteristics at a Glance
TPU materials belong to the group of thermoplastic elastomers (TPE) and show following resistant qualities:
Media resistant to hydraulic oils according to DIN 51524 Part 1-3, H, HL, HLP and flame-retardant hydraulic fluids (HFA, HFB, HFC)
Resistant to lubricating oils and greases based on mineral oil, silicone oils and greases and water up to +60°C as well as aliphatic hydrocarbons
NOT resistant to polar solvents, chlorinated hydrocarbons, aromatics, glycol based brake fluids, acids and alkalis.
VMQ (Vinyl-Methyl-Polysiloxane)
High Thermal Resistance With Very Good Cold Flexibility and Resistance to Aging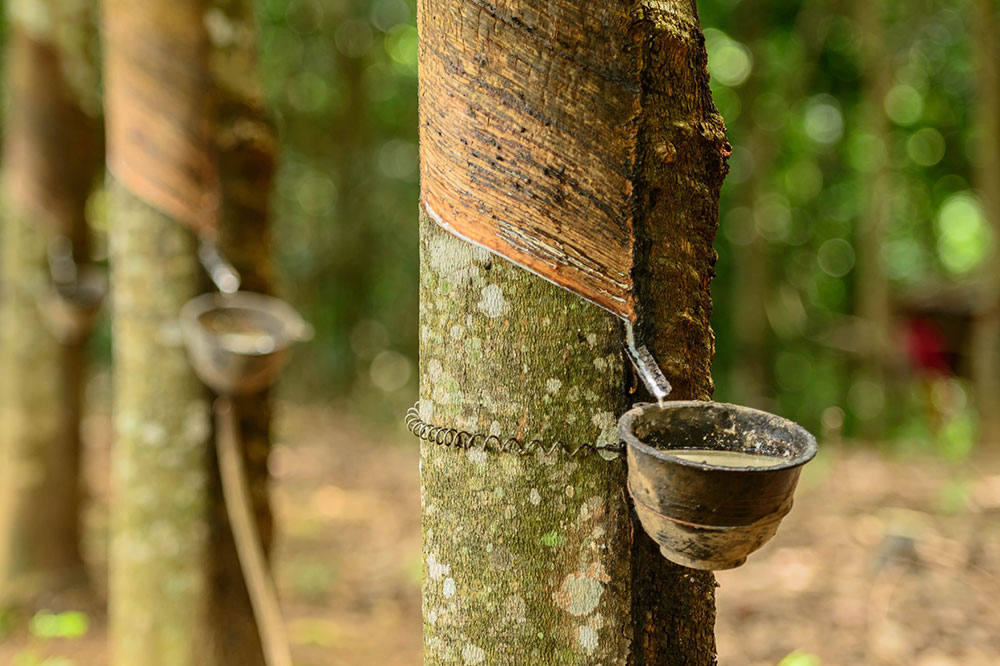 Silicone rubbers made of VMQ are known for their wide thermal application range and their excellent ozone, weathering and aging resistance. The standard silicone material can be used at temperatures from -55°C to +200°C and is water resistant (up to max. +100°C). Compared to other elastomers, the mechanical properties of VMQ are rather low. VMQ is used in food and pharmaceutical industries.
VMQ's Characteristics at a Glance
Excellent heat and thermal resistance from -55°C to +200°C
Resistant to UV light, ozone or radiation
Good resistance to synthetic, animal and vegetable oils as well as glycols
High gas permeability
Most of the O-rings available from stock have approvals according to

(EG) 1935/2004 EU
(EG) 2023/2006 (GMP) EU
ADI-free
BfR XV DE
FDA $ 177.2600 USA
Attention: with steam silicone is permissible up to +100°C.
Not resistant in fuels, aromatic mineral oils, silicon oils and greases, acids and alkalis.